The Geography of Mauritius
The island of Mauritius is sixty-one kilometers long and forty-six kilometers wide at its widest point and has a total land area of 1,865 square kilometers.
The island itself is formed around a central plateau which is about 600 meters above sea level, with about three hundred and fifty kilometres of coast which is protected almost entirely by coral reefs. Around the plateau, the original crater can still be distinguished from several other mountains.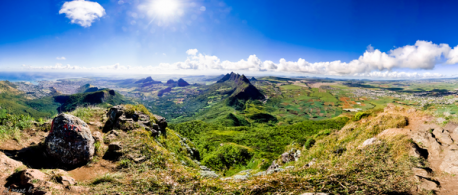 Mauritius is quite a mountainous island but not with very high mountains. The highest peak is at the southwest of the Island, the mountain of Piton de la Petite Rivière Noire at 828 meters (2,717 ft), second is the Pieter Both at 823 meters and Le Pouce is the third highest mountain on the island at 812 meters.
Mauritius actually consists of a broken ring of mountain ranges, some 600 to 800 meters above sea level, encircling a central tableland that slopes from a level of 300 meters in the north to 600 meters in the southwest.
Ring of coral reefs surrounds almost the entire coastline and form many shallow lagoons, rich with white coral sand beaches, and dunes.
Mauritius has several rivers and streams, many of them are formed in the crevices between land created by new and old lava flows.
The island has two natural lakes both are crater lakes and one man-made reservoir.
Mauritius' capital and largest city is Port Louis which is situated at the northwest. Other important towns are Rose-Hill and Beau-Bassin, Curepipe, Vacoas, Phoenix, Quatre Bornes.
The two biggest harbors are Port Louis and Mahebourg.